laptop donation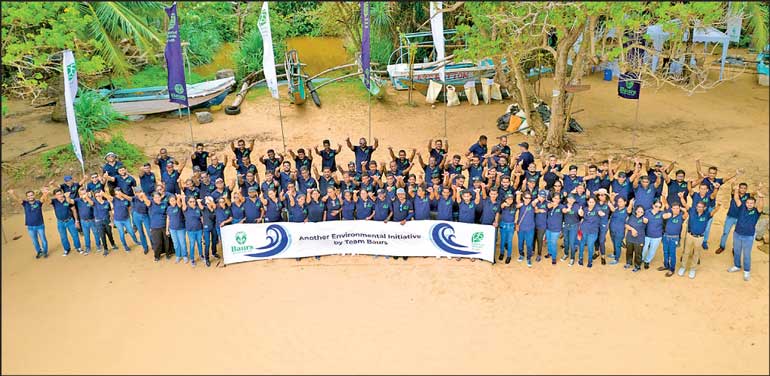 Beach cleaning
---
Guided by its corporate philosophy of improving people's lives, A. Baur & Co. Ltd. (Baurs) celebrates 125 years of business in Sri Lanka, with a series of initiatives focusing on youth education and environmental protection.
Fostering the education of young people, especially among people facing many challenges, Baurs is donating 25 laptops through its Alfred Baur Beneficiary program to university students across the country. The first phase took place recently and five laptops were presented to students from the University of Ruhuna, Matara. Professor Saman Chandana Ediriweera, Acting Vice Chancellor of Ruhuna University, Anoja Basnayake, Chief Information Officer, and Ken Vijayakumara, Deputy Managing Director of Human Resources, A. Baur & Co. Ltd. graced the occasion.
Over the next few months, students at six other universities will benefit from gifted laptops to enhance and improve their educational and career prospects. The selection of students was based on several criteria agreed by both the university concerned and Baurs.
As a responsible corporate citizen that values ​​giving back to society, the laptop initiative is part of Baur's broader agenda to impact the education and growth of students in the years to come. A signature Baurs initiative is its school furniture project, providing furniture to schools for several years. Even during the pandemic, Baurs donated 100 used desktop computers, in good working order, to select schools across the country.
Continuing its rich tradition of unparalleled integrity and community service, Baurs organized a beach clean-up campaign and the planting of native tree saplings as an environmental initiative to celebrate its 125th anniversary and make a significant contribution to the protection of the 'environment.
The beach cleanup and tree planting organized at Rumassala Beach, Unawatuna aims to preserve the environment for future generations. More than 200 volunteers, including Baurs employees, dealers and distributors, took part in the cleanup as part of a collective action, encouraging everyone to live sustainably. Other organizations involved in the program were the Department of Wildlife, Sri Lanka Ports Authority, Habaraduwa Pradeshiya Sabha and the Sri Lanka Police Department.
Rumassala Beach, Unawatuna is the first phase of beach cleanups organized by Baurs. Generating messages to educate visitors who visit the location on keeping the area clean, placards and awareness boards have also been installed. Similar events targeting other treasured seaside locations in Sri Lanka will also be held throughout the year.
As a participant in the United Nations Global Compact, Baurs is committed to strengthening the organization's commitment to sustainable development with a focus on environmental, economic and social aspects and to aligning our strategies and operations to to work towards the achievement of the Sustainable Development Goals. The Beach Cleanup Campaign highlights our commitment to the environment and raises awareness of the importance of protecting our oceans and beaches.
Commenting on these initiatives, Managing Director/CEO Rolf Blaser said: "Contributing to society has been our company's mission from the very beginning. As we celebrate a 125-year milestone, we aim to continue investing in our communities, supporting education, striving to fortify the environment, reinforcing our commitment to inspiring generations through impactful initiatives and measurable.